First direct measurements of luxury iron uptake in natural phytoplankton communities: surprising results!
Joint Science Highlight with the US Ocean Carbon & Biogeochemistry Programme (OCB).
The uptake of iron by phytoplankton is a key part of the marine iron cycle, but we still have a rudimentary understanding of the controls on this process. It is generally assumed that dissolved iron availability controls phytoplankton iron. Combining data from the GP16 GEOTRACES section and three other GEOTRACES-compliant cruises in the eastern Pacific, Twining et al. (2020, see reference below) show that phytoplankton iron contents (aka, quotas) vary 40-fold across environmental gradients. Further, taxa prone to nitrogen limitation such as diatoms accumulate iron more than expected, even under extremely low iron conditions. Modeling indicates that this is a widespread occurrence in the low-Fe oligotrophic Pacific. This study provides the first direct measurements of luxury iron uptake in natural communities and shows how it can vary between diatom taxa, with Pseudo-nitzschia able to accumulate luxury iron even in the low-Fe sub-Arctic North Pacific. These findings demonstrate the importance of biology and ecology to understanding iron biogeochemistry.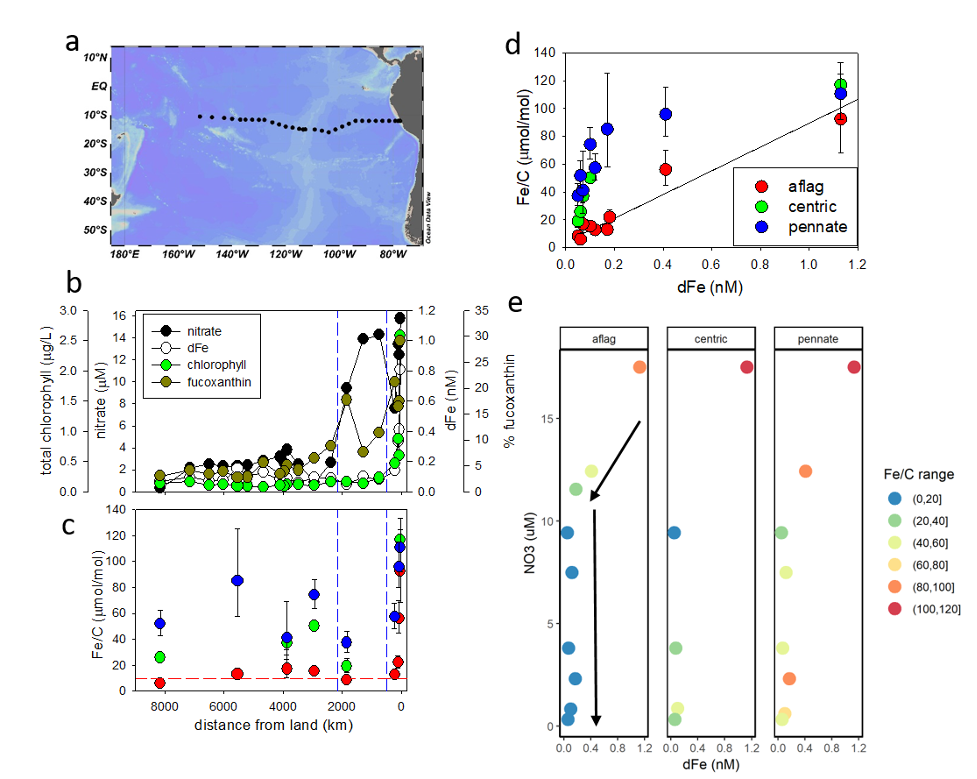 Reference:
Twining, B. S., O. Antipova, P. D. Chappell, N. R. Cohen, J. Jacquot, E. L. Mann, A. Marchetti, D. C. Ohnemus, S. Rauschenberg, and A. Tagliabue. 2020. Taxonomic and nutrient controls on phytoplankton iron quotas in the ocean. Limnology & Oceanography Letters. Access the paper: https://aslopubs.onlinelibrary.wiley.com/doi/10.1002/lol2.10179