Three GEOTRACES cruises will be sailing simultaneously in the Atlantic, the Pacific and the Southern Ocean
Three national GEOTRACES programmes (Japan, UK and South Africa) will undertake GEOTRACES cruises in the coming months. The first cruise to leave port will be the Japanese cruise along the GEOTRACES Pacific section GP02. This section cruise will depart from Tokyo (Japan) on 23 June and arrive port in Vancouver (Canada) on 7 August. During the cruise, biogeochemical cycles of trace elements and isotopes (TEIs) will be investigated in the High-Nutrient, Low-Chlorophyll (HNLC) areas of the subarctic North Pacific and the Gulf of Alaska (see figure below).
The UK ZIPLOC cruise will sail in the tropical Atlantic Ocean. It will depart on 27 June from Guadeloupe (French overseas region) and return port on 13 August in Tenerife (Canary Islands). This cruise has been endorsed as GEOTRACES process study and it will investigate zinc, iron and phosphorus co-limitation in the ocean.
The South African GEOTRACES cruise on board the research vessel Angulhas II will depart from Cape Town (South Africa) on 29 June. During 15-days this GEOTRACES process study will navigate in the Indian sector of the Southern Ocean (30˚E line, see figure below) to study the sources, sinks and cycling of bioactive trace elements as well as the impact of the hydrothermal ridge on trace metal distribution and speciation. Follow this cruise at: https://southernoceanfe.wordpress.com
Japanese cruise chief scientist: Hajime Obata
UK cruise chief scientist: Claire Mahaffey (GEOTRACES scientists: Maeve Lohan and Alessandro Tagliabue)
South African cruise chief scientist: Marcello Vichi (GEOTRACES scientist: Alakaendra Roychoudhury)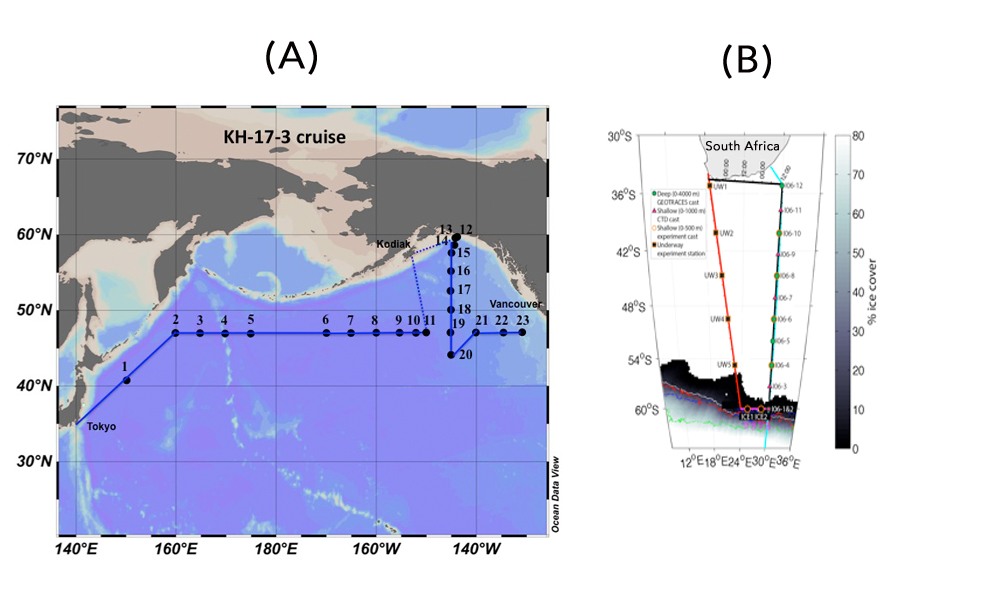 Figure: (A) Cruise track of the Japanese cruise (KH-17-3) along GEOTRACES GP02 line; (B) Cruise track of the South African process study cruise (AIMIZ-GIO6). Click here to view the figure larger.