GEOTRACES Japanese cruise GP02 is sailing in the northern Pacific
A zonal transect is being undertaken along 47°N in the northern Pacific (GP02) to investigate biogeochemical cycles of trace elements and isotopes as part of the international GEOTRACES program. The Japanese research vessel Hakuho Maru left Tokyo on August 23, 2012, and will arrive at Vancouver (Canada) on October 3, 2012 (end of the cruise). A port call at Dutch Harbor (USA) is planned between 13 and 16 September. Thirty three scientists and students, including two graduate students from Korea and Indonesia, participate the cruise.

The cruise aims at establishing the first 2-dimensional profiles of GEOTRACES trace elements and isotopes (TEIs) in the northern North Pacific to extract much information on biogeochemical cycles of TEIs and their roles in marine ecosystems. Some radioisotopes are associated with the accident at Fukushima nuclear power plant on March 11, 2011. In addition, submarine hydrothermal activity at Juan de Fuca Ridge is an important target as a significant source of trace metals from lithosphere to seawater. In order to pursue the above purposes, seawater samples will be taken from surface to bottom by clean CTD hydrocasts (12L Niskin-X bottles) using a Ti-armored cable and a large volume (250L) water sampling system. Bottom sediments will also be sampled by using a multiple corer. Measurements of chemical constituents and isotopes will be performed in clean rooms on board the ship and/or in shore-based laboratories.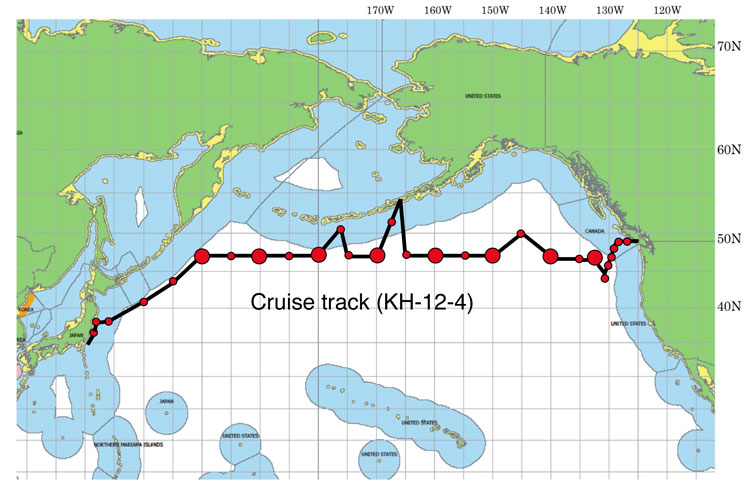 Figure: GP02 cruise track.
PI: Toshi Gamo.