GEOTRACES at 2015 Goldschmidt Conference

An impressive amount of novel GEOTRACES scientific results were presented at the 2015 Goldschmidt Conference (Prague, Czech Republic, 16-21 August, 2015). A total of 8 GEOTRACES-related sessions were held including 103 oral presentations and 83 posters. As a result, the "Ocean Biogeochemistry" theme co-cordinated by Andrew Bowie (University of Tasmania, Australia) and Geraldine Sarthou (LEMAR CNRS, Brest University, France) was one of the largest scientific themes of the Conference.
Information about the 8 GEOTRACES-related sessions including the complete abstracts of all presentations are available on the links below: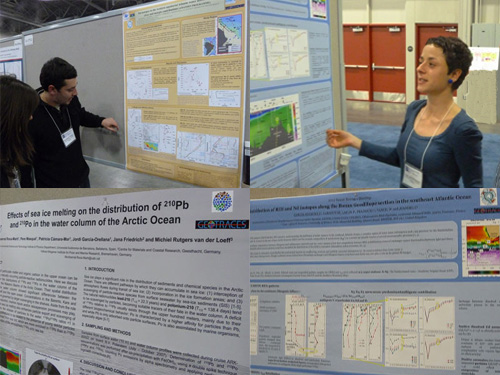 *02a: Trace Metals in the Ocean: Distributions, Isotopic Variation and Speciation

*02b: Radionuclides in the Ocean

*02c: Past Changes in Ocean Biogeochemistry and Circulation and their Interaction with Climate

*02d: What are the unifying principles common to all three Oxygen Minimum Zones (OMZs)?

*02e: Air-Sea Exchange, the Biological Pump, and Ocean Acidification
*02f: Biogeochemistry of Arctic and Antarctic sea ice systems
*02g: Advances in marine N, P and Si biogeochemistry
In addition, Catherine Jeandel, GEOTRACES IPO Senior Scientist, made a talk to commemmorate the 25th Goldschmidt Anniversary where she reviewed the last 25 years of marine geochemistry.