Forthcoming departure of the French GEOVIDE cruise in the North Atlantic
The French GEOVIDE cruise will depart from Lisbon (Portugal) on May 15 to undertake an integrated oceanographic transect in the North Atlantic Ocean and Labrador Sea (GEOTRACES GA01 section). On board of the cruise there will be 40 scientists from eight countries. The cruise will return port on June 30 in Saint John's (Canada).
The area of study is crucial for the Earth climate and the distributions of trace elements and isotopes in this region are poorly constrained. Since 2002, the OVIDE project contributes to the observation of both the circulation and the water mass properties in this area. GEOVIDE aims at better constraining the uncertainties on ocean circulation and providing new information on chemical element fluxes. The strength of the project resides in its interdisciplinarity: physical oceanography and biogeochemistry will be coupled, merging observation and modelling.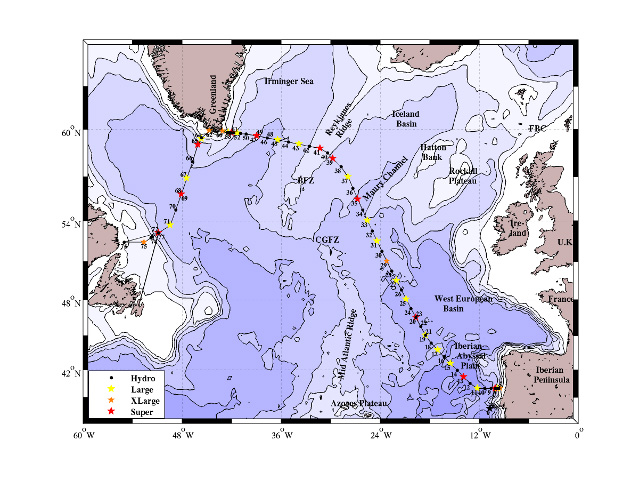 Figure: GEOVIDE cruise track. 

The main scientific objectives of GEOVIDE are:
1- Better know and quantify the MOC and the carbon cycle in a decadal variability context, adding new key tracers
2- Map the TEI distribution with their physical and chemical speciation along a full-depth high resolution ocean section
3- Investigate the link between the TEIs, and the production, export and remineralisation of particulate organic matter
4- Identify the TEI sources and sinks and quantify their fluxes at the ocean boundaries
5- Better understand and quantify the paleoproxies 231Pa/230Th, eNd, and d30Si. 

A cruise blog is available at: http://geovide.tumblr.com
Follow GEOVIDE project at: http://www.geovide.obs-vlfr.fr
Chief Scientist: Geraldine Sarthou (LEMAR, France) and Pascale Lherminier (LPO, France).