GEOTRACES Summer School : Introducing Polar Parameters
GEOTRACES Summer School
Dates: 10-15 July 2022
Location: Bremerhaven, Germany
The International GEOTRACES Summer School: Introducing Polar Parameters will take place from 10th to 15th July 2022 at the Helmholtz-Centre Alfred Wegener Institute for Polar and Marine Research in Bremerhaven, Germany.
It will offer training possibilities for ~50 students, with a combination of lectures and hands-on training in marine geochemistry of trace elements and their isotopes.
The Summer School will include a full day of shipboard sampling of marine trace elements onboard RV Heincke and 1:1 science discussions with renowned experts in the field.
The event is supported by VolkswagenStiftung. Financial support for travel and accommodations will be available for the selected participants.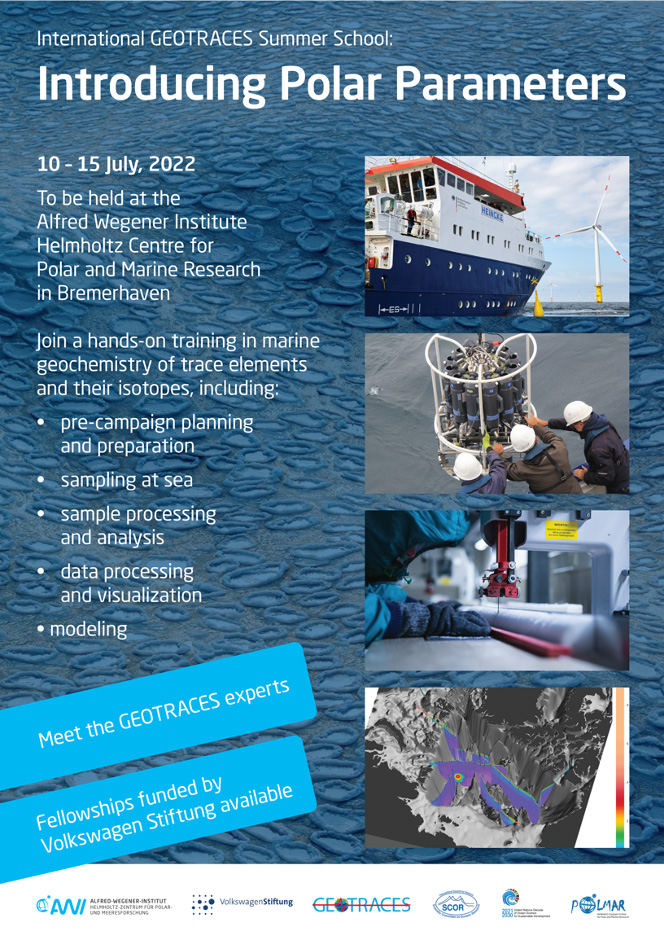 Call for applications
Please read the call for applications for information on the application procedure.
Deadline for applications
Pre-registration is open until April 15th, 2022. Applications will be subject to selection.
For more information and applications
Please visit the summer school website: